News
• Jul 18, 2013 - Character template change, 'Sex' has been changed to 'Gender'
And remember when using infoboxes on your User page, please use Template:User or Template:User2 instead because the character infobox automatically adds pages to the Character category.
• October 10, 2013 - Hub Network's 3rd Birthday!
• Jul 13, 2013 - The Wiki reaches 100 articles!
News archive
Contribute to this wiki
To write a new article, just enter the article title in the box below.
If you are new to wikis, check out the getting started information page.
Check out the community portal to see what the community is working on, to give feedback or just to say hi!

Featured Article: February

In the Megadale Ice Company, Cold Finger and his evil penguins plan on firing the giant Ice Caliber 2.0 freeze ray gun at Megadale. Suddenly, SheZow enters and defeats them, but not before breaking the lens on the ray gun causing it to malfunction and create a giant portal.
---
Poll
If you could be SheZow, it would be for the...
Featured Image: February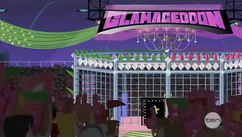 The Glamageddon from the episode Glamageddon.
---
Featured Video: February
240px
Shezow Original Pilot featured on Season 2, Episode 10 of Shorty McShorts' Shorts aired on May 4, 2007.
---
Latest activity