News
• Jun 30, 2021 - JackieFuChan616 adopts SheZow Wiki becoming its most recent and only active bureaucrat.
• Jul 18, 2013 - Character template change, 'Sex' has been changed to 'Gender'
And remember when using infoboxes on your User page, please use Template:User or Template:User2 instead because the character infobox automatically adds pages to the Character category.
• October 10, 2013 - Hub Network's 3rd Birthday!
News archive
Contribute to this wiki
To write a new article, just enter the article title in the box below. <createbox> bgcolor=#f3f3ff </createbox>
If you are new to wikis, check out the getting started information page.
Check out the community portal to see what the community is working on, to give feedback or just to say hi!

Featured Article: August

Big Chow Slim is a Chinese obese underworld mob boss, the number-one employer of all ninjas. He makes very slow entrances due to his weight slowing down the platform, and he owns his own fireworks factory. He attempted to steal the fortune away from Guy by kidnapping Rick. But when he needed Guy to signed his name on the fortune, Guy tricked him and signed the fortune to Rick the brick. At the end he blew up in the factory with a large number of fireworks.
---
Top 10 Lists
Favorite Character

Favorite Episode

Favorite Villain

Favorite Hero

Favorite User
Featured Image: August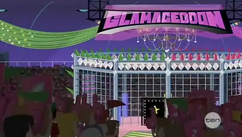 The Glamageddon from the episode Glamageddon.
---
Featured Video: August
240px
Shezow Original Pilot featured on Season 2, Episode 10 of Shorty McShorts' Shorts aired on May 4, 2007.
---
<chat />
Latest activity