"SheZow Happens"
Season 1, episode 1

Broadcast Number:
1
Airdate:
June 1, 2013
Credits
Director:
Gillian Carr
Jay Surridge
Written by:
Obie Scott Wade

Episodes

Previous
"SheZow"
Next
"Cold Finger"
"
SheZow Happens
" is the first episode in the first season of SheZow. It is the first episode overall. It starts off as a season kick-off and introduces all the new characters.
Synopsis
Guy's family move in with his aunt in the series premiere of this animated show about a boy who finds a heroine's power ring and then fights villains while dressed as her superhero persona.
Plot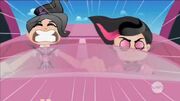 Guy and his family move into Aunt Agnes's house where he finds the power ring, in the basement. He puts the ring on and accidentally becomes SheZow. His Aunt used to be SheZow but now he is and he is suddenly faced with his first super she-mergency, an attack on the city by the Pushy Pirate Posse (PPP). In battling the PPP, Guy is reminded that his father, Officer Hamdon does not like SheZow interfering in legitimate police work. Later, Guy tells his best friend, Maz, that he is SheZow.
Major events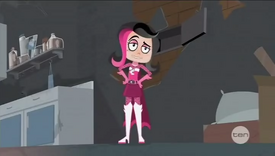 This is the episode where Guy obtains the ring.
The Hamdon's family moves in.
Debuts
Characters
Trivia
This episode is a remake and redone version of the original Pilot

Also some of the dialogue is changed
Gallery